Overview
SME Assist - 'Meeting Your Obligations' workshop 
Navigating the regulatory maze can be a challenge, especially if you're new to regulation.
To help, the Therapeutic Goods Administration (TGA) SME Assist presents "Meeting your Obligations" a free workshop aimed at beginners who are unfamiliar with therapeutic goods regulation.
If you have a product or medicine that is likely to be considered a therapeutic good, this workshop will help you understand your responsibilities at different stages of the regulation process.
What will be covered:
Fundamentals of regulation

 
During this session, we'll cover an overview of therapeutic goods regulation, including TGA's role, the steps to seek market authorisation and helpful links for applications.
Product focus sessions (concurrent sessions)
Medical devices (e.g. surgical instruments, bandages)

Complementary medicines (e.g. vitamins, nutritional supplements)
Medical devices and complimentary medicines are two areas which generate high innovation from business.  To help potential applicants, each product focus session will provide:
an overview on the general principles and criteria for regulation

the steps involved to progress an application

an understanding of the regulatory considerations for manufacturing a product

the requirements to manage and maintain a product on the ARTG

an overview of 

how the TGA monitors ongoing compliance.
Panel Discussion
During this session our panel will share their thoughts on how business can best navigate the commercialisation journey, pitfalls to avoid, how and when to seek out different support and guidance as well as answer questions from the audience.
Panel members
Ben Noyen – Assistant Secretary, Regulatory Engagement Branch, TGA

Jeremy Barker –  Growth Facilitator, Entrepreneurs' Programme, AusIndustry

Industry Speaker - TBC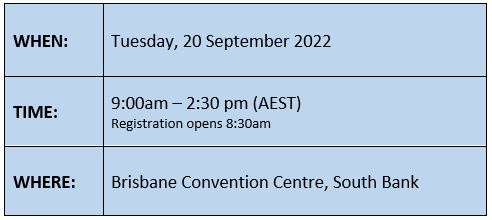 What happens next
We will contact you after your registration has been submitted, and provide an agenda closer to the workshop.
If you are unable to attend, please contact
Email info@tga.gov.au
Subject: Brisbane workshop 'attendance adjustment'
or
Phone: 1800 020 653